Market Forecast: Variable
Oliver Fox
There has been much press given to the housing market slump in recent months and speculation as to the ramifications on the construction market. There is certainly a downturn in the housing market in most regions of California which will last for some time, and this means that subcontractors and their labor force from the housing sector will be available for other projects, and consequently more competition can be anticipated in those sectors.
We have seen signs of this happening in various sectors and on certain sizes of projects, e.g. small to mid-size projects have seen a much greater response from contractors and subcontractors. Some smaller projects are currently being bid at below the market of six months ago - profit margins are being squeezed and the owners have the benefit of increased competition.
The following chart shows how we see bids on school buildings having gone in recent years, compared to the ENR San Francisco BCI, with bid prices starting to drop from the high of last year.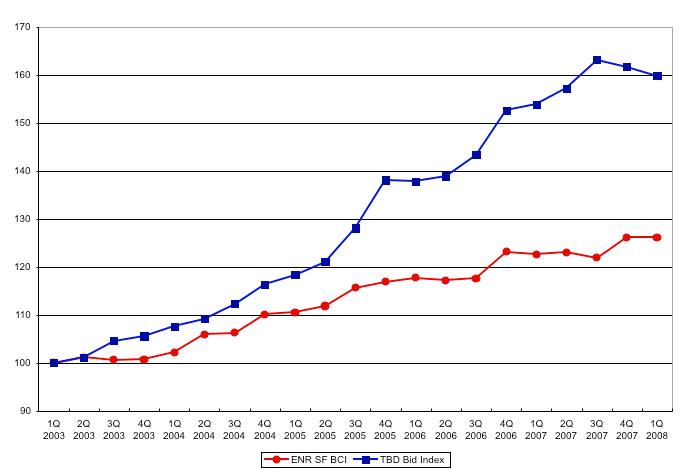 The larger more complicated building types (e.g. hospitals and laboratories) have not had the benefits accruing as some other sectors have. The Medical sector in particular has a limited number of General and Subcontractors that are available and interested, especially for OSHPD work, and all of these parties remain at or above capacity in the work they are willing to contract for. We have not seen much sign in this sector of more competition or interest from the major subcontractors looking for work. It appears that the major subcontractors will be able to demand a high rate of return and a pricing level that ensures significant profit margins, and any perceived risk will carry a heavy weighting. The strategy of enlisting a design assist approach from the major subcontractors remains a viable delivery method in these areas. This ensures a participation and certainty that is absent if a traditional deign/bid/build delivery is relied upon.
With labor rate increases in the 5-6% range and labor shortages continuing in non-residential market, we forecast that the Medical sector escalation could be up in the 6% - 8% per annum range going forward for the next year or so. Thereafter we expect there will be a possible retreat from this level of escalation, although it is difficult to see significant competition in this sector any time soon. There are still market pressures to maintain a conservative approach to escalation and bidding contingency factors, especially for these larger projects. On the other hand, this could be a good time to bid the relatively smaller projects.