After about four years of a remarkably rapid rise in bid prices, we are finally seeing a leveling off of prices, and even reductions in some cases - but it depends on where you are in the construction market. The collapse of the single-family housing marking has meant that the contractors and subcontractors who have been making good money in that market for years are now looking elsewhere for work, leading to much more competition on the smaller projects that these contractors can obtain bonding for. In some instances we have seen bids for small projects coming in about 30% lower than would have been expected a year ago, in other words bringing the bids back down to the kind of level that the ENR building cost index would suggest.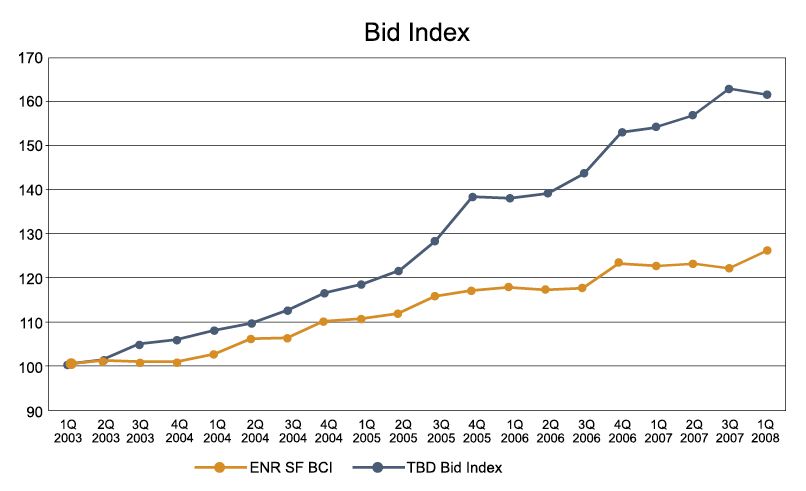 More competition inevitably pushes prices down, resulting in a kind of two-tier market, where we are seeing competitive prices for smaller projects but little competition and consequently very high prices for larger projects. With our TBD Bid Index being based on a new school project we are somewhere between these two ends.
These same kinds of conditions are not unique to the Bay Area. We recently carried out a market survey in Ireland that shows similar conditions, and for similar reasons. They are also suffering the collapse of the sub-prime lending market, and For Sale signs for houses show up regularly in town and country. Builders' suppliers readily remark on the recent downturn in demand and are much more likely to offer special deals. But commercial projects, such as business centers and supermarket/retail developments, are still continuing apace, at least for the present.
There and here it is inevitable that, while the housing market remains in recession, the competition will continue to move up through the remaining sectors of the construction market. As contractors find more competition moving into the domain they have been content to work in for years, they will start looking at other fields to work in, which normally means the level of competition increasing to steadily larger projects.
The fear for the new year is that the recession will spread from the housing and banking fields into the rest of the economy, and then we could quickly be back to a truly competitive market for the wrong reasons. However, with the Bay Area's population growing faster than other areas in California, the resultant demand coming from that growth could cushion any recessionary trends, and leave intact the Bay Area's tradition of being one of the last regions to be affected by a recession.