The latest update of our TBD Bid Index (for the second quarter of 2007) still shows bid prices rising, but not as steeply as during the past couple of years.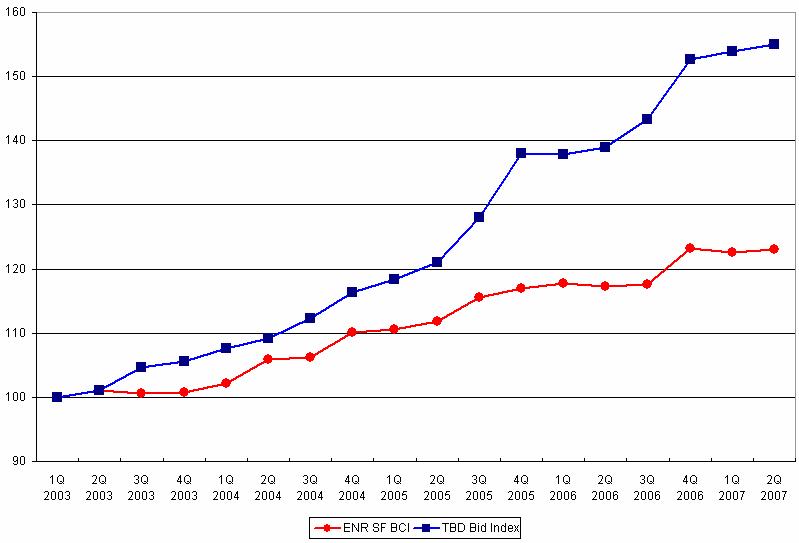 Does this mean that we have reached a peak in the recent price increases? It may be rather premature to suggest that. History doesnít always repeat itself, but it doesnít hurt to consult it, so we looked back over the past 35 years at how escalation rates had changed. Unfortunately our own index only goes back to the start of 2003, so we looked elsewhere for the comparisons, specifically to the ENRís Building Cost Index and to Saylorís Subcontractor Index. The former is national in its context and looks at changes in a specific basket of materials and union labor rates. The latter index is California based and looks at particular subcontractor prices, so it is more a gauge of bid prices.
The following chart shows the movement of the ENR Building Cost Index over the past 35 years: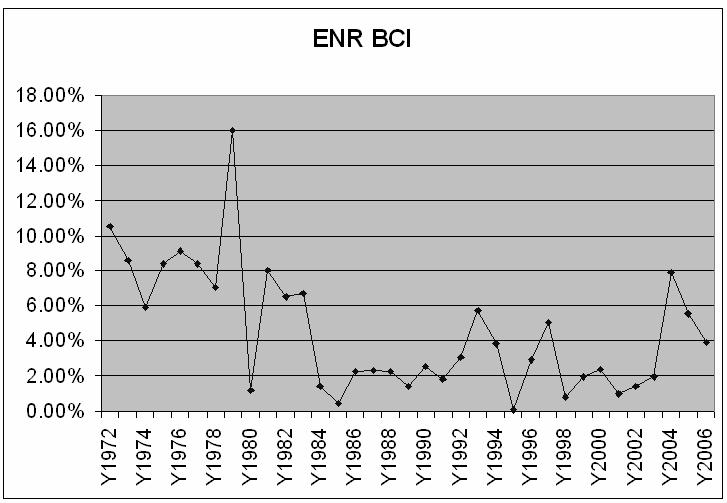 That chart shows some fairly high annual price increases over the first decade that we are looking at, then approximately 20 years that vary up and down around the 2% mark, then the rate jumps up again in 2004.
The Saylor Subcontractor Index shows similar trending, but since it reflects market conditions to a greater extent, the swings are wider: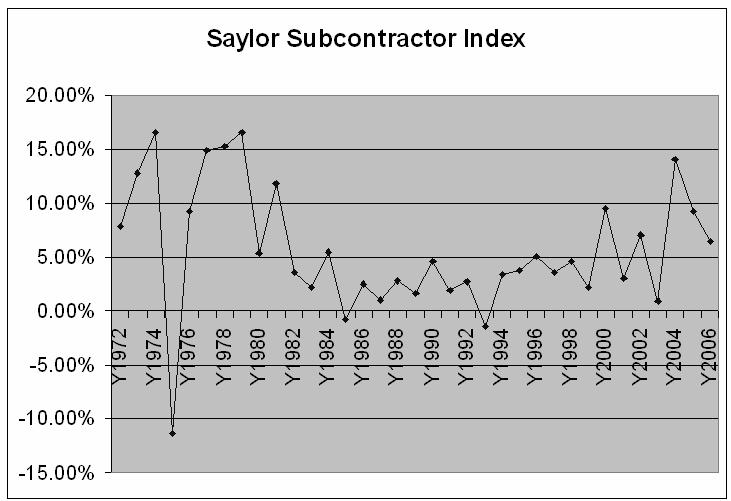 Averaging the annual increases over these three time periods shows the following:
| Year Range | ENR BCI | Saylor |
| --- | --- | --- |
| 1972-1981 | 8.32% | 9.88% |
| 1982-2002 | 2.62% | 3.15% |
| 2004-2006 | 5.78% | 9.92% |
The fact that we are starting to see similar annual escalation rates to those occurring 35 years ago doesnít mean that we will be in for a similar decade long period of high escalation. But there does seem to be a lot of construction work being planned for, and if contractors have full books, they have no incentive to lower prices.